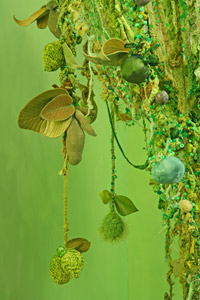 If we were in Portland, we'd be going to see this:
Mandy Greer
Dare alla Luce
January 22 – May 31, 2009



Museum of Contemporary Craft




Portland, OR



Translated from Italian, "dare alla luce" is an idiomatic expression for giving birth: "to give to the light." Excerpted from website:

Through countless small gestures of her craft, Greer employs humble handicraft processes and materials, executing her work through crochet, braiding, sewing and beading processes that use yarn, beads, shells, feathers and more. Merging the mythical and the mundane, Greer collapses the language and materials of the ordinary with the spectacular and the epic.

The resulting work intertwines objects and space, resulting in an exuberant, sensual and visceral installation.
For more information, read here